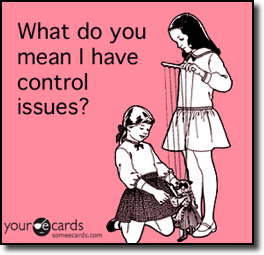 All that "I might need it one day!" clutter is about control. Control over your future, a future that may never unveil itself. A future created in your own mind that won't allow you to relinquish items you don't have a use for right now, probably never will and in all honesty, although used in the past, were never really needed even then.
What tragic outcome would ensue in the future if, today, you decluttered that spare potato peeler? If you got rid of that ever growing pile of ragged bath towels you save in case of a huge spill? If you put all those magazine clippings in the recycling bin that you have been saving to reference when "needed"? If you donated all those material scraps that you might use some day to a craft group who will use them now?
Would the world come to a screaming halt sometime in the future due to these scenarios and any other that come to mind? NO is the answer to that question. "But what if, later, I can't afford to replace such articles?" I hear you say. And I reply… "STOP and really think whether this item is really even necessary in the first place. A potato can be pealed with a knife, a good towel can be washed and reused after cleaning up a spill, any information clipped from a magazine can be easily accessed via the internet (and more easily for that matter), and material scraps really didn't matter that much in the first place. Apply this thinking to anything that you feel is contributing to the clutter in your home and see what rational conclusions you come to.
And while you are at it think what immediate positive impact decluttering all those unused items will have on the appearance, feel, ease of organising and cleaning  and the comfort level of your home and then explain to me why you are still holding on.
Let go of a little control and live for today. At the moment the clutter is controlling your life, not the other way around. So do something about it. You might be surprised at how liberating relinquishing control can be.
Today's Mini Mission
Have a good look in your kitchen cupboards and drawers. This is usually a hotbed of only slightly useful stuff that you could declutter.
Eco Tip for the Day
As adults it is our job to teach our children to conserve power and water. If you raise your children with good habits now conservation will come naturally to them when they become the adults themselves.
For a full list of my eco tips so far click here
It matters not how fast I go, I hurry faster when I'm slow
Continue reading with these posts:
The hurricane method of decluttering. Part 1 The hurricane method of decluttering, as Moni dubbed it, is when one rips through the house decluttering a vast amount of stuff all at once. A person's hand is often forced into this […]
How little we really need Every time I go on a long vacation I am reminded of how little one really needs to live a comfortable and functional lifestyle. My husband and I often stay in Airbnb places when on […]
Getting the stuff out of your home It has come to my attention, both through comments on my blog and through real life experience, that one of the issues people have with their clutter, once they finally decide to be rid of […]