The full title of this book is…
Absolutely Organize Your Family
Simple Solutions to Control Clutter, Schedules and Spaces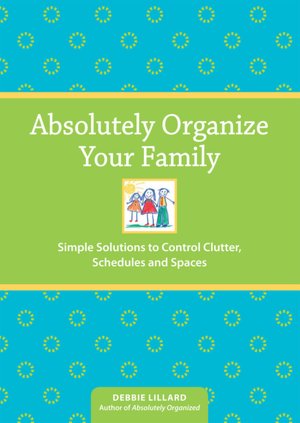 …now isn't that a mouthful. And aptly titled at that as this book is full of simple easy to understand common sense solutions to clutter control in the home. The main focus is on organising life around the little people in your life. And as we all know "happy mother happy family" right so if the kids are organised life runs pretty smoothly for Mom.
Personally I found the information far too rudimentary but this is probably because I have been there done that and now my kids are grown. But for anyone who is feeling like they need a little help in this area perhaps this book will have the simple solutions you are looking for.
I did find this passage about memorabilia very true…
"You have to be reasonable about what you keep. It's often said that the key to organising is making decisions. I completely agree with this statement and have seen it demonstrated with many of my clients. The people with the most clutter and the most old stuff can't seem to make a decision to let go of the past.
I also applauded the idea that the author recommended involving the children in the decision making process. Children have individual needs and thought processes on what makes organisational sense to them. If you insist on them conforming to your way of setting their stuff up without allowing any input from them there is a good chance the system is going to break down quickly and order will not be maintained. They also deserve a say in what stays, what goes and when where there stuff is concerned.
Topics covered in this book range from finding solutions to the after school drop off point to keeping their art work under control, keeping their wardrobes decluttered on a continuous basis and even schedule planning for after school activities. So if you are struggling with any of these areas or others I haven't mentioned why not see if you can find a copy of this book in your local library or maybe you could pick up a digital copy for your e-reader.
I would like to mention that this book was kindly supplied to me by one of my local readers Elaine Inwood who runs her own book distribution company called Capricorn Link ~ Books for better living. Thank you Elaine.
Now that I have read the book and written the review I will be decluttering it so someone else can enjoy it. I did promise it to a reader some weeks back and for the life of me I can't remember who that was except that it was someone from Australia. So if you see this and know that someone was you please send me a quick email so I know who you were. It will be donated to my local library if not claimed.
Today's Declutter Item
These were the first jewellery making tools I bought some years back and not very good ones were they. I have since replaced them with better quality ones. They are however good enough to do the odd quick jewellery repair at the thrift store. So that I where they are now.
"In daily life we must see that it is not happiness that makes us grateful, but gratefulness that makes us happy." Brother David Steindl-Rast
It matters not how fast I go, I hurry faster when I'm slow