I do love the mantra, a place for everything and everything in its place. This is a good rule to live by when dealing with an excess of stuff. But it is just as important to ensure that the place you give something to 'live' is also at the logical point of use, and easy to access.
We live in a small space so inevitably, we have our armchairs in front of book/storage shelves and these need to be moved if we want to get something behind them. One thing that has been annoying me for a while is that somehow, my filing system has ended up behind my chair (and therefore now behind a sofa – see last post 'Would I buy it now?').
Although on paper you wouldn't think it takes a moment to move the chair/sofa, the reality is that is doesn't happen and paperwork piles up unfiled. I also had an 'in-tray' next to my chair that I no longer had room for – and to be honest it only acted as an  – "can't be bothered, let's dumps it here for months" tray anyway and looked messy.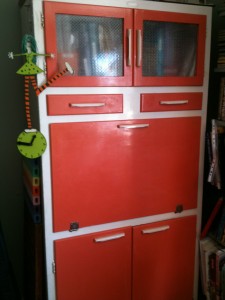 So on my unscheduled mass de-clutter day, in the middle of everything else, I decided to ruthlessly weed two 3 feet (1 metre)  shelves of paperwork to take up half the space and look for a new home for my paperwork…and no in-tray would be it had to be done straight away or diarised and filed.
Which led me to my 1950's retro cupboard…. that was full of craft stuff:
I've had various crafting hobbies over time, but in recent years have been learning to down size the stuff I keep and to recognise hobbies I have gone off. A year ago I bought a 2nd hand cabinet for my crafts stuff with the commitment that anything that couldn't fit in there had to go. It's worked really well. So well in fact it has made me see that after 10 months, I am no longer that interested in making stuff.
So, enthused by the changes I needed to make, I got ruthless with the contents.
This is just the bottom cupboard  pre sort out, the storage space above looked much the same:
All my craft stuff has now been reduced to just the bottom cupboard:
Now the top 2/3rds of the old crafting cabinet is my new office 😀
A month on, and not one bit of filing has hung around for days – it can be put away very quickly and easily. You will note from the photos that I have also labelled a lot of things with printed labels. This helps not just me, but if anything should happen to me, anyone else who needs to sort my paperwork and find vital stuff.
Anyone else got things they use regularly that never gets put away because there is no convenient place for it/ or too much effort to put it where in the place designated for it?
Today's Mini Mission
Declutter an item you have known you no longer want but guilt has had you hanging on to.
Eco Tip for the Day
Use the stairs rather than the elevator. This of course has the added bonus of a little impromptu exercise.