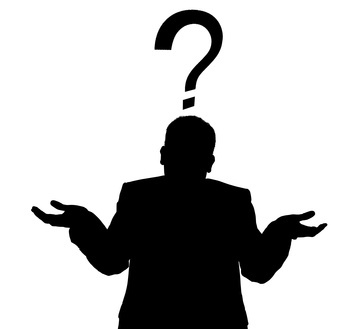 "…the answer is invariably in the question." Â This is part of a quote from a wise man. That man is Billy Connolly and the quote is from the same book I mentioned yesterday. So, how does this relate to decluttering? Well I am about to give my thoughts on that.
In the Guides section of my blog you will find my Declutter Decision Making Guide. It is packed with questions to ask of yourself when deciding whether you should declutter an item. However this quote from Billy Connolly got me thinking ~ (Wise words from worldly people often have me applying their wisdom to the subject of decluttering). My thought was this, that the answer is indeed in the question, that is, if you are even bothering to ask the question you already have the answer.
Let me give you an example. Lets say that my utensils drawer is over full and I decide some things have to go. Do I take out my spatula and ask "Do I use this often enough to justify keeping it?". No I don't, I know without question that I use it all the time and have no intension to declutter it. However as I scan the drawer I can see several items that do raise this very question. Inevitably the answer is in asking the question in the first place and the answer is no.
The same result can be found found when asking…
Do I love this enough to spend time dusting it every week?
Is the sentimental attachment to this item strong enough…?
Have I used this in the last three months?
Am I ever likely to make something from this fabric?
… and the list could go on. If you are asking the question then the answer, at best, is borderline, but in a quest for simplicity, space and downsizing the answer is usually no.
A good circumstance to apply this theory is when you have too much/many of something. Say you want to downsize a collection, reduce hobby supplies, limit the space your books are to fit into…
First set aside all the items there is absolutely no question of you decluttering. Then separate the remainder into two piles. Pile one for the maybes that you feel the need to ask the question of. And one for the can-goes for the items there really isn't any need of asking the question. Then you can make your choices of the remaining selection depending on what space you have left to fit them into.
So next time you find yourself asking the question, do I need, treasure, care to maintain or love this thing, and the answer is probably at least "not really". Then allow your space goal to assist you to the final answer to keep it or let it go.
Today's Mini Mission
Declutter five small long time unused items in your mending kit.
Eco Tip for the Day
Schedule at least an hour of family time each night. That way you will all be in the one room using one light source instead of scattered all of the house using electricity like it's going out of fashion.
For a full list of my eco tips so far click here
It matters not how fast I go, I hurry faster when I'm slow